;margin-top: 0px!important;margin-bottom: 0px!important">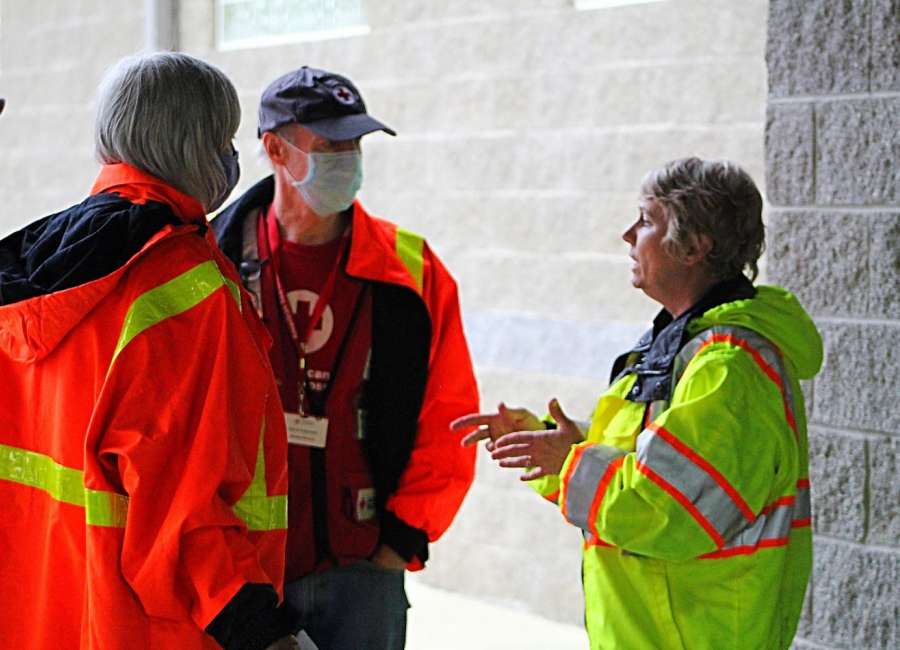 Photo by Kristy Rogers
The Coweta County Fairgrounds is the main tornado relief site for Coweta County, so COVID-19 testing has been postponed until further notice. Vaccine clinics will still take place at the site.
The Coweta County Fairgrounds has been the headquarters for COVID-19 testing since shortly after the pandemic began, and when vaccines became available, the fairgrounds became a vaccination site.
But when a tornado struck Coweta early on March 26, the fairgrounds became the base for tornado recovery services. Those impacted by the storm can go to the fairgrounds to pick up needed items, get services, wash clothes and take showers.
Because of that, the Georgia Department of Public Health has had to shift gears with COVID-19 services.
Vaccinations were delayed last week, said Hayla Folden, district spokesman for Georgia Department of Health District 4. Vaccinations are scheduled for Wednesday and will go forward, she said.
On Monday, there was a vaccine clinic held to make up for the one that was postponed last week, and 700 doses were administered, said Coweta Emergency Management Director Michael Terrell. Staff from Henry County's EMA came out to help with the vaccine clinic Monday, and Cobb EMA officials will be helping out Wednesday, Terrell said. The other EMAs have been able to mostly run the vaccine clinics for Coweta, so local officials can concentrate on tornado response, according to Terrell.
Testing, which is typically held Tuesdays and Thursdays and the first and third Saturdays of the month, has been canceled at the fairgrounds until further notice.
"Because we only vaccinate once a week, it is easier to work around than testing," Folden said.
"We will get back on schedule as recovery continues."
Free COVID-19 testing through DPH is available in Carroll County on Tuesdays, Thursdays and Fridays and in Henry County Monday through Thursday and on Saturdays. Most other District 4 testing sites now operate just one day a month.
Free COVID-19 testing is also available through YourTown Health, which has offices in Senoia and Palmetto. Walk-in testing is available at YourTown's Quick Care Clinic at 507 Park St., Palmetto from 7 a.m. to 7 p.m., Monday through Saturday. Appointments are required for testing at the Senoia location. For more information, visit yourtownhealth.com or call 770-463-4644 for the Palmetto Quick Care location or 678-723-0400 for the Senoia location.