;margin-top: 0px!important;margin-bottom: 0px!important">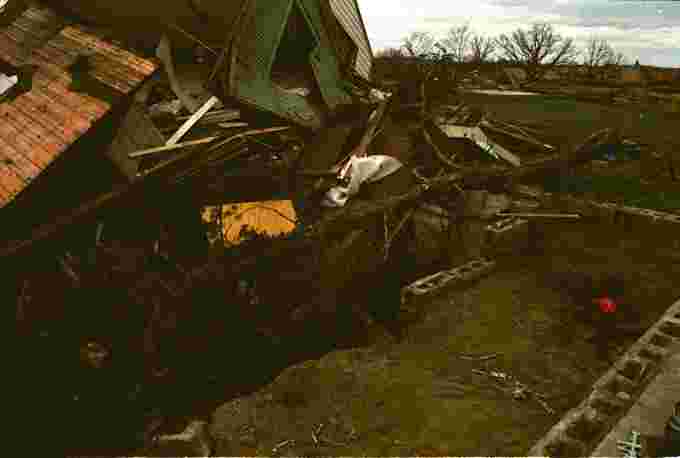 F2 tornado damage from near Albany, Minnesota. Image: Wikimedia Commons.
Subscribe: Apple Podcasts | Amazon Alexa | Google Assistant | Spotify | Google Podcasts | iHeartRadio | Overcast
October is considered pretty late in the year for tornadoes, but if the conditions are right, they absolutely can happen. And on October 26th, 1996, a tornado outbreak slammed the U.S. Midwest, causing widespread damage.
In all, that day's storms generated an astounding 26 tornadoes. Aside from the lateness and sheer number, the location was unusual as well: most late-season tornadoes in the U.S. happen in the southern states, particularly along the Gulf.
The outbreak started in Nebraska, where three tornadoes touched down beginning at 7:23 a.m. — remarkably early for that time of year. Next up was South Dakota, where between 11:30 a.m. and 12:30 p.m. a total of nine twisters were reported. Finally, Minnesota was targetted by another 14 tornadoes in the afternoon.
Fortunately, the tornadoes that touched down formed from low-topped supercells, which limited their power somewhat: of the 26, the strongest were five F2 tornadoes, with wind speeds in the range of 181–253 km/h. The rest came in as a mix of F1 and F0 twisters.
However, even a weak tornado can be damaging, and by the time the cost was tallied up, these tornadoes did some $1.5 million in damage, much of it in rural west-central Minnesota. They also injured some 15 people — but, astoundingly, no one was killed.
On today's podcast, Chris Mei dives a little deeper into the atmospheric setup that spawned this outbreak, and just how out of the ordinary it was. Give it a listen up above.
"This Day In Weather History" is a daily podcast by The Weather Network that features unique and informative stories from host Chris Mei.